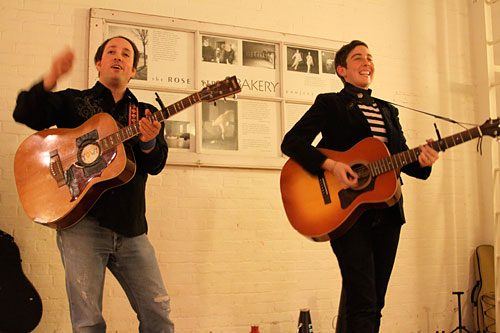 First of all, Thanks to everyone who came out to our listening party at the Rose Street Gallery! We had a wonderful time and it was fun to try (and succeed!) to do something a little different to celebrate. Extra big thanks go out to our amazing curator, Davin, and our PR specialist Lauren, and our sweeties and friends who helped in ways both big and small – including Laura and Stasia and Katie and all of our other friends who lent us gear for our installations. And special thanks to Harold, our inside man at the Rose Street gallery and all of the folks who live there for welcoming us into their space! Jim at Big Heavy World took some lovely photos and did a nice lil' write-up here: Let's Whisper CD Release Celebration/Listening Party
On to some new news! This Saturday we are doing another fun 2-hour action plan at the 1/2 Lounge in Burlington – you can expect as much Colin and Dana as you can handle from 7-9 p.m. We'll play lots of Let's Whisper songs and even a few solo songs each. Fun for all and a mellow time.
After that we are heading off to the west coast for a one-off performance as part of this year's San Francisco Popfest!
Here's a link to the details for the Sunday matinee in Delores Park: SFPopfest 2011 – Sunday Afternoon Picnic Show
Hopefully we'll get to see some of our faraway friends then!