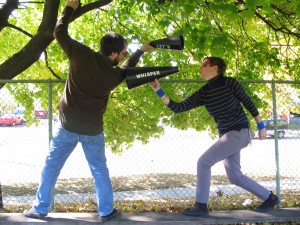 Well, things here at Let's Whisper HQ have been pretty busy lately – this past Thursday Dana and Colin played solo sets at August First as part of a songwriter's series hosted by local songbird Myra Flynn. In addition to Myra and Dana and Colin, there were mini-sets by Justin Levinson and Will Daley. Local music scribe Dan Bolles did a nice preview in Seven Days, too. You can read it here: http://www.7dvt.com/2011spring-your-step
There was even a 2-song mini Whisper set – with rousing renditions of "When You Were Eating Ice Cream" and "All Happy Endings." A good time was had by all.
If you want to read some of the early reviews of The Shortest Days, well, here are links to a few that have put a little extra spring in our step!
Words And Smiles » Blog Archive » Put some spring into your spring with Let's Whisper
A layer of chips: Let's Whisper – The Shortest Days (WeePop!)
Beerandbands: Let's Whisper – The Shortest Days
That's all from us for now – though be sure to check our shows page – though we are still working on setting up some Let's Whisper shows for when the Album comes out, we want to make sure you know about the awesome Smittens show on St. Patrick's Day – we'll post the lovely flier David Smitten made on that page.
Thanks for reading!